Vasudha Sondhi: Putting sales back in business for her clients and promoting small immersive experiences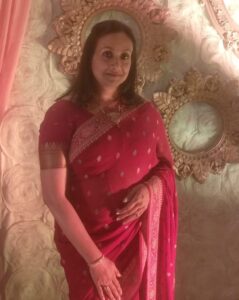 There are not many people who are gifted with the sense and clarity of thought of knowing the direction they want their career to take. The ones who are, go on to make a mark for themselves, not just becoming an iconic name but also a force to reckon with. When you meet Vasudha Sondhi, Managing Director, Outbound Marketing, who is a tall woman – both literally and figuratively, you realise just how aptly she belongs to this category. Looking at her poise and grace, one would think success came easy to her, but when you hear details of her journey from a young mother to a flourishing entrepreneur, which is what she always wanted to be, your respect for the veteran grows manifold – just like mines' did. Here's our exclusive story on her in BOTT Spotlight.
Priyanka Saxena Ray
She was a born travel aficionado and loved going on holidays with her family when young. After her Graduation, Vasudha decided to get formal education in the field that intrigued her the most – Hotels. She did her Hotel Management degree from Mumbai and started her professional stint with Taj. However, it was at Hyatt where she learned all about the hotels' business – "one of the best hospitality chains in training people," is what she has to say about the hotel chain. Her professional portfolio kept growing as she went on to handle various profiles in the Indian hospitality industry, loving each with equal vigour and giving them all her complete devotion. But even as she was busy changing hats in the hospitality fraternity, becoming an entrepreneur was something, which was always at the back of her mind.
It was during the time when she was playing an instrumental role as part of the opening team of the Le Meridien Hotels in India, that the opportunity to do "something on her own" cropped up. "In 2001, during one of my travels, I met an ex-colleague who wanted me to partner with him and handle the sales and marketing of his client. It was a tough decision as I was on the top of my career at that time – being paid extremely well and also working at a certain pinnacle.  Sanjay (Vasudha's better half) wanted to step-in and Outbound Marketing was born. However, soon enough he realised that if I don't take the entrepreneurial plunge now, I will never be able to do it. Thus, soon after Outbound Marketing was formed, I too quit work and joined the company full time," she reminisces.
Just like every business goes through a gestation period, theirs did too, where paying salaries and finding good talent were the primary challenges. For the first few years, their portfolio of clients kept going randomly as most clients came with a short-term interest in mind and really had no vision of growth. Sun International was one of their first big clients, who continues to work with them till date. What followed were majorly all hotel clients, who approached them to bring the sales back into their business. It was in 2005 that they got their first destination – Bali Tourism as a client and after handling their road shows etc. for 3 years, the duo opened another company named Om Tourism in 2008, for handling destination clients primarily.
"We do not like to be called a representation company as that is just one of the many services we offer. We put the sales back into the business – make ourselves responsible for the ROIs. Many leading hotel chains work with us, seek our help to bring them out of losses or just escalate their profits or just provide them with sales solutions. Accor worked with us for 6 years and it was a great experience. Early on in our business we had a challenging job from HRH Hotels who needed our expertise in turning their business around and which we did very well to land them in a profitable position. Connect Worldwide, one of the leading US companies that offers marketing solutions to hotels, works with just one company in India and that is us. So we must be doing something right," Vasudha shares graciously.
The client list of both the companies together is not just impressive but also extremely exhaustive. It comprises Corinthia Hotels, The Sun Lux Collection, Connect Worldwide, Onyx Hospitality Group, Melia Hotels International, Louvre Hotels Group, GLH Hotels, Republic of Indonesia, Mauritius, Grand Resort Bad Ragaz & many many more.
"I have some radical and exciting plans for the future as I am now setting step into curating and selling small retreat immersive experiences. Parvada Bungalows, a hotel resort in Nainital, Uttarakhand, is my first step in this direction. Ramgarh will be added to the bouquet next year," she adds. So from big hotel chains and five-stars, she is now venturing into the niche segment of cosy retreats and keeping her track record and dedication in mind, one can be assured that this too will be a roaring success.
Elegance personified, Vasudha is one of the rare women in the travel trade who has not let her success change her in anyway. She lovingly meets all her old colleagues, has many friends in the industry, is never heard talking foul about competition and is immensely adored and respected by her office colleagues and media people alike simply because she always takes time to 'respond' and 'listen' – a quality that is fast becoming unusual in our circle. A firm follower of "well read readers make great leaders", Vasudha takes pride in having a small library in her office and believes that self training and self disciplining can go a long way in shaping the present as well as future of a person. A woman of grit and substance, she truly defines what "power-women" are made of and it's a pleasure interacting with her, always.
To read more Click Here.